Keeping your living space fresh and clean is an essential part of maintaining a healthy and comfortable environment. While regular cleaning can help, sometimes you need a deeper clean to truly transform your space. That's where professional deep cleaning services come in. Whether you're in Toronto, Ontario, or anywhere else, these specialized services can revamp your home, leaving it looking and feeling brand new. In this article, we will explore the power of professional deep cleaning, the benefits it offers, and how it can elevate your living environment. So, let's dive in and discover the magic of a total makeover with specialized deep cleaning services.
Transform Your Home with Expert Deep Cleaning Services
Deep cleaning your home can be a daunting task, especially if you have a busy schedule or lack the necessary equipment and expertise. That's where expert deep cleaning services in Toronto, Ontario, can save the day. These professionals are equipped with the knowledge, experience, and tools to tackle even the toughest cleaning challenges.
The first step in transforming your home is to find the right deep cleaning service provider. Look for reputable companies or independent cleaning professionals who offer deep cleaning services in your area. Consider reading reviews and testimonials to ensure you choose the best option available.
Once you've found the right team, they will work their magic to thoroughly clean every nook and cranny of your space. From scrubbing floors and walls to cleaning carpets and upholstery, deep cleaning services leave no stone unturned. They can tackle even the most stubborn stains, eliminate odors, and remove deeply embedded dirt and grime. With their expertise, your home will be transformed into a pristine and welcoming sanctuary.
Discover the Power of Professional Deep Cleaning for Your Space
Deep cleaning goes beyond surface-level cleaning. It involves a meticulous approach that targets hidden dirt, bacteria, and allergens. These contaminants can accumulate over time, leading to various health issues, including respiratory problems and allergies. By investing in professional deep cleaning services, you can ensure your space is not only visually appealing but also hygienic and safe.
During a deep cleaning session, professionals will use specialized equipment and cleaning solutions to reach areas that are often overlooked during regular cleaning. They will thoroughly clean kitchen appliances, sanitize bathrooms, and disinfect commonly touched surfaces. This comprehensive approach not only enhances the overall cleanliness of your space but also helps in preventing the spread of diseases.
Moreover, professional deep cleaning can extend the life of your furniture, carpets, and other household items. By removing dirt and debris that may cause wear and tear, deep cleaning helps maintain the quality and appearance of these items. This can save you money in the long run by reducing the need for frequent replacements.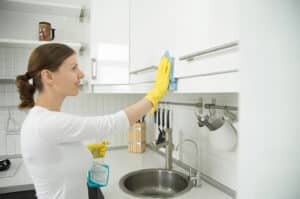 Experience a Total Makeover with Specialized Deep Cleaning Services
If you're looking to give your space a complete makeover without the hassle of renovations or redecorating, specialized deep cleaning services are the way to go. They can breathe new life into your home by restoring its original beauty and freshness. Whether you're preparing for a special event or simply want to refresh your living environment, deep cleaning services can provide a total transformation.
From the moment you step into your professionally cleaned space, you'll notice the difference. The air will feel cleaner and fresher, and the surfaces will gleam with a renewed shine. With the elimination of dust, dirt, and allergens, you'll experience improved indoor air quality, leading to a healthier living environment for you and your family.
Furthermore, a deep-cleaned home can have a positive impact on your mental well-being. Clutter and unclean surroundings can contribute to feelings of stress and anxiety. By investing in professional deep cleaning services, you can create a serene and uplifting space that promotes relaxation and peace of mind.
Elevate Your Living Environment with Top-notch Deep Cleaning Solutions
When it comes to deep cleaning services, quality matters. That's why it's essential to choose a service provider that offers top-notch solutions tailored to your specific needs. Whether you're looking for a one-time deep clean or regular maintenance, there are options available to suit your requirements and budget.
Many professional deep cleaning services in Toronto, Ontario, offer customizable packages, allowing you to select the areas of your home that require the most attention. This flexibility ensures that you get the most value out of the service while focusing on the areas that matter the most to you.
Additionally, deep cleaning services are not limited to homes. If you own or manage commercial properties, such as offices or retail spaces, you can also benefit from professional deep cleaning. A clean and well-maintained commercial environment can positively impact employee productivity, customer satisfaction, and overall business success.
Transform Your Space Today with Professional Deep Cleaning
Revamping your space doesn't have to involve costly renovations or extensive redecorating. With professional deep cleaning services, you can achieve a total makeover without the hassle. From improving indoor air quality and eliminating allergens to restoring the original beauty of your home, deep cleaning offers a multitude of benefits.
So, if you're in Toronto, Ontario, or anywhere else, don't hesitate to explore the power of professional deep cleaning services. Transform your living environment, elevate your space, and experience the joy of a fresh and clean home. Remember to choose a reputable service provider, read reviews, and customize the service to suit your needs. With their expertise, you can embark on a journey towards a healthier, happier, and more beautiful living space.