The world of Airbnb hosting is an ever-evolving landscape where each detail can significantly impact the success of your property. When it comes to maintaining a 5-star rating, cleanliness is the cornerstone upon which your hosting empire can thrive. Factors like location, pricing, and hospitality certainly have their place, but nothing rivals the impact of a clean and well-maintained property. Professional Airbnb and apartment cleaners have emerged as the key to maintaining this level of cleanliness consistently, ultimately boosting your ratings and enhancing the overall hosting experience. In this article, we will delve deeper into the ways in which investing in professional cleaning can elevate your Airbnb ratings and improve your hosting journey.
First Impressions Matter
The timeless adage, "you never get a second chance to make a first impression," resonates profoundly in the realm of Airbnb hosting. The moment your guests step into your property, their initial experience largely dictates their perception of the entire stay. A clean, well-organized, and hygienic property sets the stage for a warm and welcoming first impression, immediately making your guests feel comfortable and at ease.
Professional cleaning services bring to the table the experience, expertise, and tools required to deep-clean your property, ensuring it is devoid of dust, grime, and lingering odors. This meticulous attention to detail not only sets guests at ease but also fosters an inviting atmosphere, which is crucial for achieving 5-star ratings.
Health and Safety
In the era of COVID-19 and heightened awareness of cleanliness and hygiene, health and safety concerns have risen to the forefront of travelers' minds. Professional Airbnb cleaning services are well-versed in adhering to the highest cleaning standards and safety protocols. They use industry-approved cleaning products and techniques to ensure that your property is not just clean but also a safe sanctuary for guests.
By entrusting a professional cleaning crew with the task, you can rest assured that your property complies with all necessary health and safety guidelines, a key factor in maintaining that coveted 5-star rating.
Consistency is Key
Consistency is an integral aspect of hosting on Airbnb. Your guests expect a steady level of cleanliness and quality throughout their stay. Maintaining this level of consistency can be a significant challenge for hosts who take it upon themselves to clean their properties, especially during periods of high guest turnover.
Professional cleaning services, on the other hand, can guarantee a consistent standard of cleanliness every time. They follow meticulous checklists and adhere to schedules to ensure that your property is perpetually in pristine condition, irrespective of how frequently it's occupied. This unwavering consistency plays a pivotal role in guest satisfaction and the relentless pursuit of 5-star ratings.
Time and Stress Savings
The task of cleaning a property between guest stays can be a time-consuming and often stressful endeavor for hosts. It can encroach upon the time you'd rather allocate to other aspects of hosting, such as maintaining open communication with guests or improving your property. By outsourcing the cleaning to professionals, you not only free up valuable time but also alleviate the stress that comes with the responsibility. This allows you to focus on the more enjoyable facets of hosting while your property is in the capable hands of the experts, subsequently increasing the likelihood of receiving positive reviews.
The Wow Factor
A professionally cleaned property exudes a certain "wow factor" that captivates guests upon their arrival. Stepping into a spotless and immaculately organized space triggers a sense of delight and satisfaction. This positive emotional response can significantly influence guests to leave glowing reviews, thereby boosting your overall rating.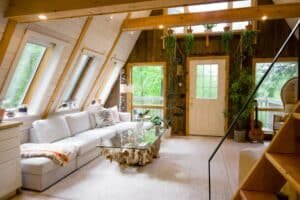 (Image: Unsplash)
The Indispensable Role of Professional Airbnb Cleaning Services
In recent years, the hospitality industry has witnessed a significant transformation with the emergence of short-term vacation rentals, primarily through platforms like Airbnb. Travelers now have a plethora of unique and cost-effective lodging options at their fingertips, and property owners have discovered a lucrative source of income. However, with this booming industry comes an increased demand for cleanliness and maintenance, and that's where professional Airbnb cleaning services have become indispensable.
The Importance of Cleanliness in the Airbnb Industry
Cleanliness is an essential aspect of any accommodation business, and it's even more critical in the short-term rental sector. Travelers, whether on a weekend getaway or a month-long adventure, expect a clean and hygienic environment during their stay. It's not just about first impressions; cleanliness affects the overall guest experience, reviews, and a property's reputation. Happy guests are more likely to leave positive reviews, return for future stays, and recommend your property to others.
Professionalism and Efficiency
Maintaining the high standards of cleanliness required in the Airbnb industry can be a daunting task for property owners, especially those who manage multiple listings or have other full-time commitments. This is where professional Airbnb cleaning services come into play. These services are well-equipped, experienced, and dedicated to delivering top-notch cleanliness. They know the ins and outs of the industry, including the importance of adhering to Airbnb's cleaning protocols, to ensure the safety and well-being of guests.
Professional cleaning services can efficiently manage turnovers between guests, ensuring that the property is ready for the next check-in without any hassle. They have a team of trained professionals who can thoroughly clean, sanitize, and refresh the property in a timely manner, giving property owners peace of mind and the ability to focus on other aspects of hosting.
Meeting Airbnb's Enhanced Cleaning Standards
In response to the COVID-19 pandemic, Airbnb introduced enhanced cleaning standards to provide guests with a higher level of confidence when booking a property. These standards include guidelines for cleaning, sanitization, and disinfection. Meeting these requirements can be challenging for individual property owners, but professional Airbnb cleaning services are well-versed in these protocols. They use EPA-approved cleaning products, follow recommended disinfection procedures, and pay special attention to high-touch surfaces, making sure the property is safe for guests.
Regular Maintenance and Attention to Detail
Apart from cleaning, professional services often offer maintenance checks, identifying and addressing issues before they become major problems. Whether it's a leaking faucet, a malfunctioning HVAC system, or a broken window latch, these professionals can take care of minor repairs or notify the property owner promptly. This proactive approach not only ensures the comfort and satisfaction of guests but also helps maintain the property's long-term value.
Reliable Inventory Management
To maintain a high guest satisfaction rate, Airbnb hosts need to provide a consistent experience from one guest to the next. Professional cleaning services can help with inventory management, ensuring that essential items like toiletries, linens, and kitchen supplies are well-stocked and in good condition. This attention to detail contributes to a seamless and hassle-free stay for guests.
In the fast-growing world of Airbnb hosting, cleanliness and professionalism are paramount. Property owners looking to excel in this industry often find that professional Airbnb cleaning services are indispensable partners in delivering a superior guest experience. They not only ensure that the property is spotless and sanitized but also help hosts meet and exceed Airbnb's enhanced cleaning standards. With their expertise in cleaning, maintenance, and inventory management, these services are a valuable asset in managing a successful short-term rental business. So, for property owners seeking to make their Airbnb listings stand out and earn glowing reviews, professional cleaning services are the key to success in today's competitive market.
Why Toronto Shine Cleaning?
When it comes to preparing your Airbnb for winter guests, considering the benefits of hiring professional cleaning services is a smart move. These experts possess the knowledge, skills, and specialized equipment required to tackle the unique challenges posed by winter messes, all while doing so effectively and efficiently. In Ontario, one of the top-rated cleaning services that stands out is Toronto Shine. They offer a comprehensive solution to keep your property in pristine condition even during the harshest winter months, ensuring your guests have a comfortable and memorable stay. Their professional cleaning teams are well-versed in the specific cleaning needs that winter presents. They understand how to effectively address issues like salt stains, wet and muddy floors, and other seasonal concerns. This expertise ensures that your property remains in top condition, regardless of the weather outside.
Toronto Shine is a trusted and highly reputable cleaning service in Ontario. Their expertise in dealing with winter-related cleaning challenges sets them apart as an excellent choice for Airbnb hosts looking to maintain a welcoming and clean environment. 
Conclusion
In the fiercely competitive world of Airbnb hosting, maintaining a 5-star rating is an invaluable goal. Cleanliness, often considered the foundation of a successful hosting venture, is a crucial component of this achievement. Professional Airbnb cleaning services offer a promising investment to help you reach this goal. Not only do they provide a clean and safe environment for your guests, but they also free up your time, reduce stress, ensure unwavering consistency, and cultivate that all-important "wow factor." By making professional Airbnb cleaning a priority, you can enhance your hosting experience, draw in more guests, and reap the benefits of higher ratings and increased bookings. Your path to Airbnb success begins with the first impression and ends with that coveted 5-star rating, and professional cleaning is the secret weapon that ties it all together.
(Featured Image: Unsplash)